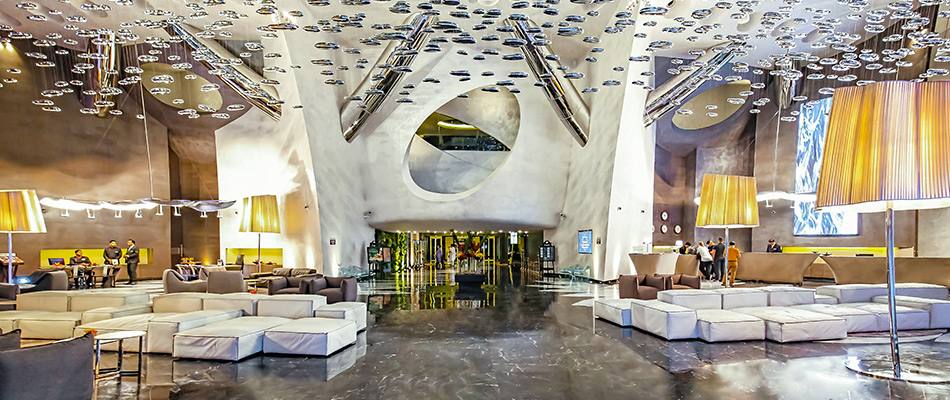 Guests Speak
Dec

Nov

Oct

Sep

Aug

Jul

Jun

May

Apr

Mar

Feb

Jan
Dec

Nov

Oct

Sep

Jul

Jun

May

Apr

Mar

Feb

Jan
Dec

Nov

Oct

Sep

Aug

Jul

Jun

May

Apr
Dec

Nov

Oct

Sep

Aug

Jul

Apr

Mar

Jan
Dec

Nov

Oct

Sept

Jul

Jun

May

Apr

Mar

Feb
Dec

Nov

Oct

Sept

Jul

Jun

May

Apr

Feb
Dec

Nov

Oct

Sept

Aug

Jul

May

Mar
Parimaltalsania
Rajkot, India on Sep 29, 2015
"Classy business hotel" classy Business hotel with all the simple amenities you want. really posh interiors and superb view if you have got lagoon facing rooms. Food is excellent in all the restaurants over here. Only down side is reception is pretty slow specially if you look at other facilities in the hotel. You have to wait and wait and wait for your turn.
anid1_11
London, United Kingdom on Sep 28, 2015
"Beyond expectational Service- 5*++++" Can't do justice to the amazing staff/team at this hotel. You may find similar/better 5* hotels in Mumbai.... But staff courtesy/service really are what define this place- from Mr Sodhi, to Mr Prakash Balasara, Hazel/Nikhil/Swati/Maiythali- customer relations to concierge staff. Genuinely caring folks- made my daughter feel really cared for whilst she was attending work placement in India. Wonderful restaurants within the hotel- varied cuisines. Agai- only can say try it if you want to experience the human touch in a place far from home. May the hotel/staff carry on the yeoman work and wish the hotel/staff continued success.
SinghCzar
New Delhi, India on Sep 26, 2015
"Super Luxurious Stay" I stayed at this hotel for the 1st time. It is actually an amazing stay. Staff at all locations is very curteous, attentive and efficient. Rooms are indeed very elegantly furnished and different from other 5 Stars i have stayed in.The restaurants are very well furnished and good food. The Breakfast spread is awesome.Had drinks at the Ocean Bar outside and Dinner at the India restaurant 'Namak'. Good ambience and authentic food.The layout of the hotel has a huge central covered area with a lot of greenery which gives it a distinct identity.Best part is that it is 3 minutes from the airport and hotel provides complimentary pick up and drop.As there are conferences all the time can get a bit crowded but does not take away at all the fact that this is a highly recommended Hotel for visitors to Mumbai.
JumboMumbai
Mumbai, India on Sep 26, 2015
"Classy business hotel" classy Business hotel with all the simple amenities you want. really posh interiors and superb view if you have got lagoon facing rooms. Food is excellent in all the restaurants over here. Only down side is reception is pretty slow specially if you look at other facilities in the hotel. You have to wait and wait and wait for your turn.
msrado2
Oak Creek, Wisconsin on Sep 24, 2015
"Excellent Hotel" Nice rooms, good restaurants, friendly staff! The Sahara Star is a nice oasis near the Mumbai domestic airport. Very convenient if traveling on a domestic flight! The lagoon in the middle of the hotel has many restaurants and some shops and is a place where one can relax after a long flight.
Rachelgojer
Bengaluru (Bangalore), India on Sep 24, 2015
"An excellent hotel" The room was very well laid out and had everything i needed. Loved the balcony. I had requested specific things while booking the room and they were all taken care of. High attention to detail. Any employee I spoke to was friendly and helpful and went out of their way to take care of me. Speed and efficiency of the servive was very commendable at all stages including airport pickup, check in, room service, checkout. Highly recommended by me
mekaind
London, United Kingdom on Sep 24, 2015
"exceptional service! great long term stay!" I am staying as a long term guest and the delightful staff are very friendly and accommodating! special thanks to certain staff members who have gone out of their way to make the stay comfortable; mr Balsera is always so jolly and helpful accommodating dietary needs with the breakfast at the hotel which by the way is worth the visit!...
ArunLoyalka
Mumbai, India on Sep 23, 2015
"For an overnight connecting domestic Flight the best solution" The price ,the location,the service and the food all make the stay comfortable.This hotel is quite far from South Mumbai ;hence commuting could be a problem.As the hotel is close to the domestic airport(Chatterpati Shivaji International Airport) one is away from city centre,and shops or other restaurants .The room is quite comfortable and the service prompt.Breakfast is quite sumptuous with...
MUFFAZALK
Mumbai, India on Sep 23, 2015
"Birthday Celebration At Ocean Restaurant" Its a five star property located very close to the Mumbai Domestic Airport. Had a friends birthday celebration at Ocean Restaurant. It was a very good experience to dine with an aquarium around. The food is yum especially the prawns.
Neil H
Worcester, England, United Kingdom on Sep 23, 2015
"Not a Business Hotel" This is an amazing building with nice rooms and amazing architecture. We went there for 2 days to have meetings with various local suppliers and customers. We used the main restaurant to meet people and also the bar. For some peculiar reason the hotel insists on playing very loud "lift musak" repeating the same tunes time and time again. I requested a member of staff to get it turned down and was told it was not possible. I then asked the duty manager, he also did nothing. Discussing with 2 other guests they had had similar problems and nothing was done. My strong recommendation would be to go elsewhere until someone wakes up to the fact that business folk do not want incessant musak at every hour of the day. We were literally unable to hear each other speak and eventually decamped to another restaurant.
Anil B
Ahmedabad, India on Sep 23, 2015
"Anything can happen" The place is beautiful, vibrant, energetic and make you feel inspired. Anyone looking for business with pleasure should b there, specially on Friday night to sat. You feel sad too that person behind such lively place is behind but still , the place is worth being there.
Nevilchristian
Gujarat, India on Sep 23, 2015
"Good Points and bad Points" Bad Points : You must be joking !! Joke apart - Not a single bad points Good Points : I loved the all different cuisine food at the Hotel. Its a beautiful place to visit. For different type of food - One can try Malaysian, Singaporean food in one of the restaurnat. Namak Restaurant - Has Indian Tadka.
100meghnapuri100
Mumbai, India on Sep 23, 2015
"Dinner at Ocean Restaurant" Was a unique experience to dine with an aquarium around. The service and food were very very good. The salmon and lobster were outstanding. So was the Dal Makhani in the Indian option. Dessert options were a little underwhelming though. They had a magician visit and do some tricks for the kids which was fun. We also had a scuba diver come through the aquarium to welcome us to Sahara Star which was a nice touch. We had an enjoyable evening.
YKH64
Kuala Lumpur, Malaysia on Sep 23, 2015
"5 star stay near Mumbai domestic airport" The hotel is located just outside Mumbai domestic airport and you can just walk to it when you land. It is highly recommended if you have early domestic flight to catch. The hotel is huge and is built in a circular format where the rooms balcony are facing the lagoon inside the hotel. Choice of F&B is plentiful but the prices are a bit steep. Rooms are well furnished and comfortable however do not choose the rooms near the elevators as you will lose your privacy if you pull open the curtains.
iska555
Tirupati, India on Sep 23, 2015
"close to airport close to heart" ravinder from reception was exceptional this hotel is good view and good food but food is very expensive and house keeping was verry bad its pathetic needs to be improved repeated calls to clean the room goes vague
jhdub
dublin on Sep 22, 2015
"What a superb property" I have experienced good customer service but nothing as exceptional as this Hotel, I arrived early and was checked in with no problems or delays and the rooms are excellent. Great Wifi throughout the property. The food is superb with great choices, the evening buffet Happy Hour of 50% off between 7 and 8 is very good value Small complaints was the music is quite loud in the Atrium too late, and they ran out of draught beer. But the real highlight is the customer service, Ruchita Gudha one of the Duty Managers is a prime example of this. Great Hotel, Great Food, Great Value, I will be back
somrb
Mumbai, India on Sep 22, 2015
"Exceptional Service, Thank you sahara" This stay of mine was very special as I brought my wife and my 1 yr old baby girl with me to celebrate her birthday. so it was first outing for my baby girl and what a memorable trip I had :) From reception to room, from lunch till dinner every thing was taken care by excellent service. I had asked for sterilizing baby bottles at 7 am and that was too taken care of. Nikhil Zope I am thankful I met you as you really made sure we will have good time with in the hotel. Breakfast spread is amazing and the chef served special pancake for my baby girl. About rooms, they have superior design kind of world class and view is amazing from the higher floors. Food was superb at namak and I believe I will definitely stay again when I get chance next time. Sahara is one of my favorites now. Thanks you sahara team.
Cagri H
Istanbul, Turkey on Sep 225, 2015
"Excellent hospitality" I was impressed by the wellcome at the reception. I booked a room at another hotel nearby, with their confirmation for early checkin at 6:00 am, however, they could not provide a room in the morning and did not support me to find another hotel. I walked outside and while looking for other hotels I found Sahara Star Hotel. They could not find a room either, however, althoug I was not their customer, they did their best to find me a room at another hotel. (Special thanks to Mr. Virendra at the reception for the support) I was so impressed with the service, so I booked a room for the rest of my stay at Sahara Star. The hotel is as good as the service, such beautiful, well designed room and exquisite restaurant area with many varieties. I recommend the hotel as a facility and for their perfect hospitality.
travelwidme
Mumbai, India on Sep 26, 2015
"Very nice property and location - and of course a surprise Lagoon made inside the hotel !!!" Very nice property. Doesnt look very beautiful from the outside, but is a different world inside. Rooms are neat, crisp and beautiful. Could be a little bigger. The Lagoon view rooms have to definitely be the choice of stay. City view in Mumbai will always be slums and dirt. What a beautiful view of the artificial Lagoon made in the centre of the hotel property. It is unbelievable !!!! Cheers to team Sahara Star for maintaining it so well. Staff is very warm and caring. But on busy days, they tend to panic. Breakfast spread is good. And i have to mention Harish Dosad their restaurant manager is an asset to this hotel. This gentleman with a smiling face and do anything for you approach gives a perfect start to a business day in the city.
Samridha
Kolkata, India on Sep 16, 2015
"Awsome facilities with not so awful service" Fantastic facilities and breathtaking view of the lagoon, the rooms were also spacious and very well furnished and comfortable, but the service was awful and very slow and to an extent annoying... P.S the breakfast is great and well spread out