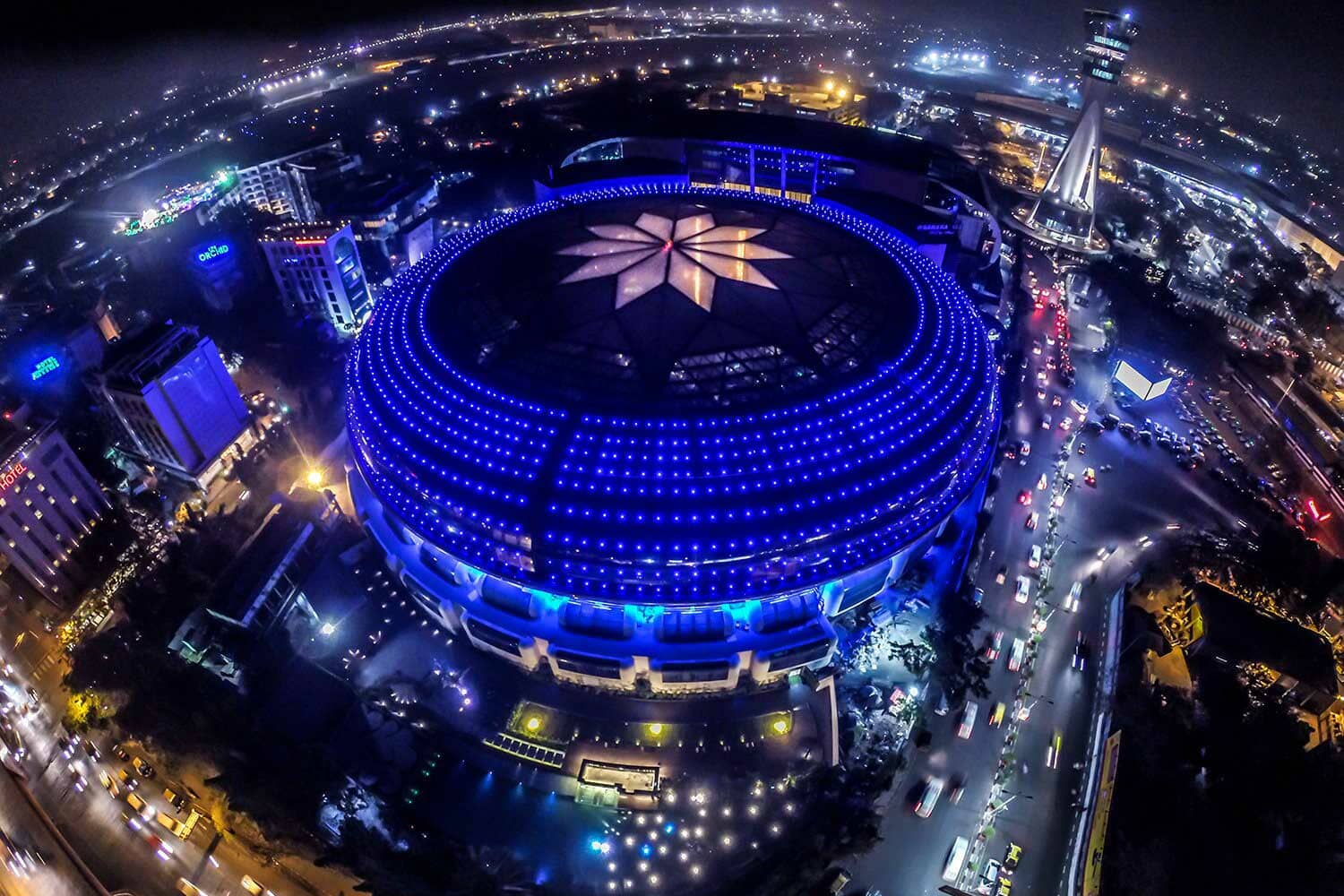 Corporate Social Responsibility
As part of Hotel Sahara Star's commitment in contributing to the well-being of the communities in which they operate, Team Sahara embraces Corporate Social Responsibility (CSR) philanthropy through extensive activities. At Sahara Star we realize that we are playing a vital role in sharing and promoting the principles of CSR due to the growing concerns of social and economic issues that surround us. CSR not only consists of doing the right thing, but also to behave responsibly as an organization and encourage our employees to follow the same values.
Thus we at Hotel Sahara Star annually undertake opportunities and give back to the society with various initiatives.
SERVING THE NATION WITH PRIDE AND HONOUR
It was indeed a moment of pride as the trainee Chefs of INS Hamla received an extensive training in culinary arts by our Executive Chef Ranjan Rajani & his team at Sahara Star.
Sahara Star's commitment to serve the community, partners with YMCA – Boys Home
Hotel Sahara Star has joined hands with The Young Men's Christian Association (YMCA) – Boys Home and SKAL Mumbai South 732 to extend their support to the community by providing meals to the young boys. Through this CSR initiative, Sahara Star aims to deliver over 60 meals one day a week to the YMCA boys home at Andheri. The Young Men's Christian Association (YMCA) is one of the oldest and largest non-profit community service organisations in India. YMCA Boys Home, established in 1964, having destitute and boys from families unable to support them, provides the support base to enable them a better future. The children are provided with overall development of body, mind and spirit through various activities, interactions and programs.


Show more
Show Less
Serving our Frontline Warriors this 15th August 2021
Hotel Sahara Star has always been a step ahead in supporting the Heroes of the nation and contributing towards the community in every possible manner. It was an honour and moment of pride for Team Sahara Star to celebrate this 75th Independence Day, serving our heroes in the Khakhi who are the true pride of the nation. Post the flag hosting ceremony refreshments were served to police personnel who work throughout the day to ensure that law and order is being followed in the country.


Show more
Show Less
Safe Me Safe We – Vaccination Drive for Team members by Hotel Sahara Star
Further to the "Safe Me Safe We" campaign initiated by the Hotel to educate & create awareness about health measures and providing a safe environment for both Hotel Guest and Team members, a Vaccination Drive in association with KJ Somaiya College of Physiotherapy was organised for all the Team members. Creatively designed posters apprising the significance of the Vaccination were put up across all Team members check points of the Hotel. Keeping in mind the wellbeing, one day leave was given to Team members who got vaccinated for the next day. The entire expenses for Covid-19 Vaccination was borne by the Hotel as we firmly believe that Corporate Social Responsibility starts from Home.


Show more
Show Less
Feeding India
Hotel Sahara Star believes in giving back to the society in partnership with FeedIndia. In a prolonged activity the hotel will be providing food to ones in need. FeedIndia is a non-governmental organization that is working towards eradicating hunger and malnutrition from India by providing the needy with nourishing food. The organization functions on a digital model and takes requests via the Feeding India application. The Hunger Heroes from the FeedIndia team collect food from the donor's location and transport it to the donation centre, wherein the food is eaten in the form of a celebration.


Show more
Show Less
Cook Off challenge with Finalists of FBB Colors Femina Miss India and Master Chefs for Children of Muktangan School.
Sahara Star hosted a cook off activity with the 30 finalists of FBB Colors Miss Femina India 2017 along with children from Muktangan School. The girls were divided in teams to prepare delectable dishes. The activity witnessed participation from Actress Dipanita Sharma, Mr. Rohit Khandelwal, winner of Mr India 2015 and the first ever Asian to be crowned Mister World in the 2016 and Ms. Priyadarshini Chatterjee, Femina Miss India World in 2016.


Show more
Show Less
ASEEMA Charitable Trust
Hotel Sahara Star has teamed up with ASEEMA a Mumbai based non - governmental organization. The hotel donated Rs. one lakh to the organization which was used to provide an all new library at Aseema. The hotel also hosts a Teachers day celebration on Sept 5th every year, for the past 7 years to salute the great work of its staff. Team members from the hotel also visit the ASEEMA School to help the teachers with their lectures and examinations. Every quarter, Sahara Star also donates consumables items for the usage of the underprivileged children of Aseema.


Show more
Show Less
Blood Donation Camp for Mahatma Gandhi Seva Mandir
The employees of Sahara Star are not too far behind in supporting the great cause by participating in the Blood Donation Camp for the Mahatma Gandhi Seva Mandir, a 51-year-old charitable trust. Team Sahara Star comes forward and generously donates blood for this noble cause. The Blood donation drive is undertaken each year since the past five years.


Show more
Show Less
DEEDS Public Charitable Trust
Hotel Sahara Star has also partnered with DEEDS Public Charitable Trust, an NGO that works to provide training & employment to disabled children. DEEDS serves the community of physically impaired by providing free education, imparting vocational training & giving suitable placements so that they can lead a life of dignity, purpose & joy through financial self-reliance. Sahara Star has employed 10 such children. To embrace the above Sahara Star had also hosted an event for 250 children with special movie screenings along with performances from the hearing impaired students of DEEDS Public Charitable Trust followed with an evening of refreshments.


Show more
Show Less
SAMPARC - Social Action for Manpower Creation
Hotel Sahara Star also associates with SAMPARC - Social Action for Manpower Creation a non-profit making Public Charitable Trust in India which undertakes the rehabilitation, care and educational development of orphan children. Team Sahara donated several computer desktop systems and printers which are used in educating and uplifting unprivileged children.


Show more
Show Less
VIIRA - a ladies cab service
Keeping in mind the safety of the female staff, the hotel provides night home drop facility to their team members by uniting with VIIRA - a ladies cab service which empowers women from low income groups through employment and also provide better standard of living to women. The association with Vira accounts for Rs. 2, 12,000 per month and Sahara Star has been actively involved in supporting this noble cause for the past 5 years.


Show more
Show Less
The Mamta Trust
Since 2007, Sahara Star has supported an NGO named Family India Foundation which is now called The Mamta Trust. The members of the trust have been given contractual employment at Sahara Star during the Christmas Season and have undertaken the task of performing Christmas Carols at Sahara Star. Approximate contribution per year is rupees eighty thousand Rs. 80,000 /- and has accounted to Rs 5.6 lakhs in the last 7 years. Team Sahara Star aims to continue the same process for many more years to come.


Show more
Show Less
Standard Chartered Mumbai Marathon
Team Sahara Star has also participated in the Standard Chartered Mumbai Marathon for 3 years i.e. Year 2012 - 14. The hotel supported the United Way Mumbai Helpline by sponsoring Corporate Challenge Team for the marathon. United Way Mumbai Helpline is a special initiative of United Way of Mumbai which brings together local civic authorities residents, NGO's and other stake holders to address environmental issues at the board level and alongside setup a disaster preparedness plan for the area. Hotel Sahara Star spread awareness towards global warming and to support the Green Initiative participants were given T-shirts with brand logos and Caps to cheer all at the race. Hotel Sahara Star generously contributed an amount Rs 2, 25,000 per year.


Show more
Show Less
Deepotsav in association with Aseema Charitable Trust
Team Sahara Star, welcomed the festive season by celebrating "Deepotsav" on 26th October 2015. Deepotsav was celebrated on the special day of Sharad Purnima – a harvest festival which marks the beginning of Diwali season. Aseema Charitable Trust, an institution that offers education to underprivileged children, was also a part of the festivities. Volunteers of the institution displayed handmade candles, paintings and other embroidered stuff made by the children were up for sale.


Show more
Show Less
View Gallery
Your Deal Today